GHAZIABAD/NOIDA: With several people being turned away by hospitals, citing unavailability of vaccines,
Ghaziabad
's stocks remained tight despite a fresh batch of vaccines being delivered on Wednesday.
The city heads into Thursday, which is a scheduled 'big vaccination' day, with only around 12,000 doses and will either need another batch by Friday morning or will have to ration doses if it is to continue inoculations on Friday. On Thursday, the city received only 6,500 vaccine doses from the regional centre in Meerut.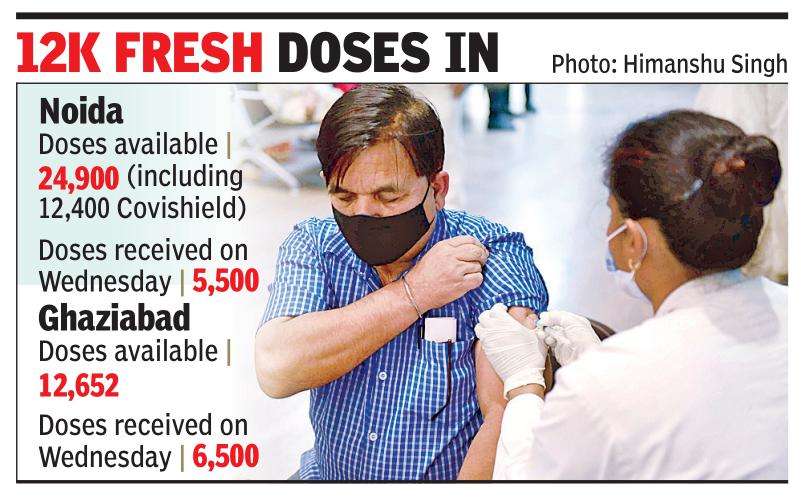 Noida (Gautam Budh Nagar), which had just 13,000 doses of Covishield after Tuesday's vaccinations, received a replenishment of just 5,500 doses on Wednesday. It will have at its disposal only around 12,400 doses of Covishield for Thursday morning, after accounting for Wednesday's vaccinations. It also has around 12,500 doses of Covaxin but the Bharat Biotech vaccine is administered only at four centres.
Noida has been set a target to inoculate at least 10,000 people daily after vaccinations were opened up for the 45+ age bracket. The district has been maintaining a daily average of 8,000-9,000 shots. On Wednesday, however, it vaccinated only 6,147 people, citing routine immunisations. If it does not receive a fresh batch on Thursday or Friday morning, Friday's inoculations will be affected.
Officials could not say with certainty when they expect to receive the next round of supplies. An official expressed confidence that it would be within the "next two days".
"State officials are aware of the vaccine demand in every district and send stocks accordingly. We have enough to last 3-4 days, following which another batch of vaccines will arrive," said Suhas LY, the Noida district magistrate. Going by the DM's estimates, though, Noida will be able to vaccinate only around 3,000 people with Covishield per day with its available stock.
Asked what had led to the supply crunch, a senior health department officer said the demand for vaccinations had shot up and this had led to a supply gap. "The situation is very different from the earlier days when there was less trust in the vaccine and frontline and healthcare workers were being pleaded with to get the shots. Now, many people want to be vaccinated, including those who are not eligible," said the officer. "Now that the demand has suddenly increased, and it will take some time to ramp up supply. This is why the supply of vaccines is staggered."
Complaints about people not getting vaccines were higher in Ghaziabad. Hemwati, a resident of Sanjay Nagar, said, "I had gone to MMG District Hospital on Tuesday and my whole day got wasted. First, we were made to wait for hours and then asked to leave because they ran out of vaccines."
Mousumi Dev, a Vaishali resident, told TOI, "We made an appointment for my mother-in-law at a private hospital (Chandra Laxmi) for April 6, but on the evening of April 5, we got an SMS cancelling it. When we got in touch with the hospital, we were told it had run out of stock on April 4 and there's no certainty when the stocks will be replenished. We contacted other private vaccination centres, but they too were out of stock and told us to enquire after 3-4 days."
Dr Mukesh Agarwal of Chandra Laxmi hospital confirmed the shortage of vaccines. "There is indeed a shortage, as a result of which we had to return many patients," said Agarwal.
NK Gupta, Ghaziabad's chief medical officer, said, "We had 12,000 doses as of Wednesday, when we vaccinated 5,848 people. This means we had 6,152 doses left. Late on Wednesday, we received 6,500 doses, which means that for Thursday we will have in excess of 12,000 doses," said NK Gupta. "We expect that about 10,000 people will be vaccinated on Thursday. By Thursday evening or by Friday, we are hopeful that a fresh batch will arrive," he added.
On Wednesday, the number of vaccination centres was reduced to 48 from 65 on Tuesday. A health department official said on the condition of anonymity that it was done to "to cope with vaccine shortage".